ERP Development
Based on our experience, knowledge and understanding of this domain, we have a proven track record in implementing and integrating various ERP development services in North Delhi, India for small, medium and large companies. As a reliable and trustworthy company in North Delhi, India, our team of experienced and well-trained ERP developers deal with complex implementation projects. Some of the complicated ERP project complication successfully handled by our team includes third-party solutions and legacy applications. It may become an obstacle during the integration process.

Furthermore, we hold expertise in developing custom ERP systems and integrating them with any other business systems like Inventory management, HR & Payroll management systems,CRM, Supplier, Order & Purchase systems etc. As per the specifications provided by our customers, we provide custom-made ERP solutions in North Delhi, India to best suit their specific needs and demands in the most efficient manner possible. In a zest to attain maximum client satisfactions and approval, we offer our customers with custom ERP software solutions.

Our ERP solutions are ideal for businesses of all sizes and industry domains in North Delhi, India. Customer centric approach is followed by our experts to understand and meet the specific ERP development needs and demands of our customers. At our company in North Delhi, India, our ERP experts create mobile, desktop and cloud ERP solutions for small, mid-sized and large companies in North Delhi, India.
Our ERP solutions are ideal for businesses that operates in the following industry domain:
Logistics
Education
Healthcare
Manufacturing
E-commerce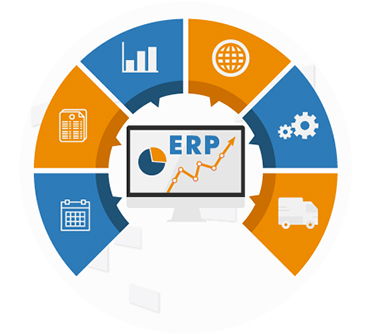 Our ERP experts provides our customers in North Delhi, India with the following ERP software development services:
Custom ERP development
ERP application development
ERP integration
ERP customization